PENINSULAR WAR 1807-1814
page still in the making
1811
26/01/1811 Badajoz
We have just heard ( http://www.napoleonicwarsforum.com/viewforum.php?f=41) that the bronze of this monument - like so many others (look here)- has been stolen (January 2013).
Fortunately, there is a copy of it in the Chiclana municipal museum and they are awaiting the economic proposal to restore it.
| | |
| --- | --- |
| | Photo Sarah King. |

15/03/1811 Foz do Arouce
25/03/1811 Campo Maior
03/04/1811 Sabugal

10/04/1811 -19/08/1811 siege of Figueres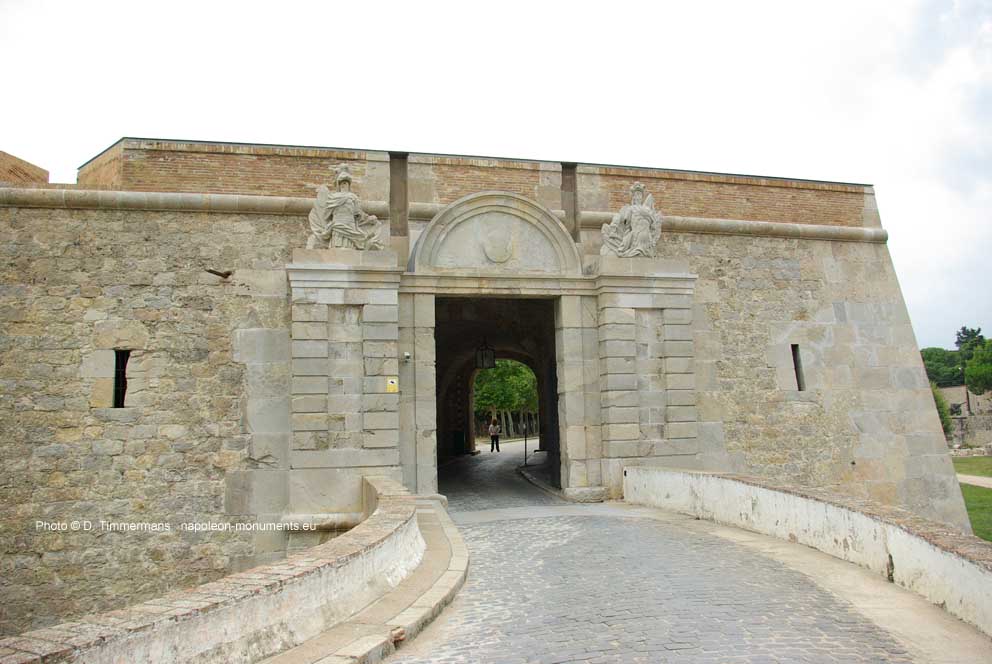 The entrance to the citadel.

The diches of the citadel of San Ferran in Figueres.
Click to enlarge

The parade ground of the citadel of San Ferran in Figueres, the largest fortress in Europe.
Click to enlarge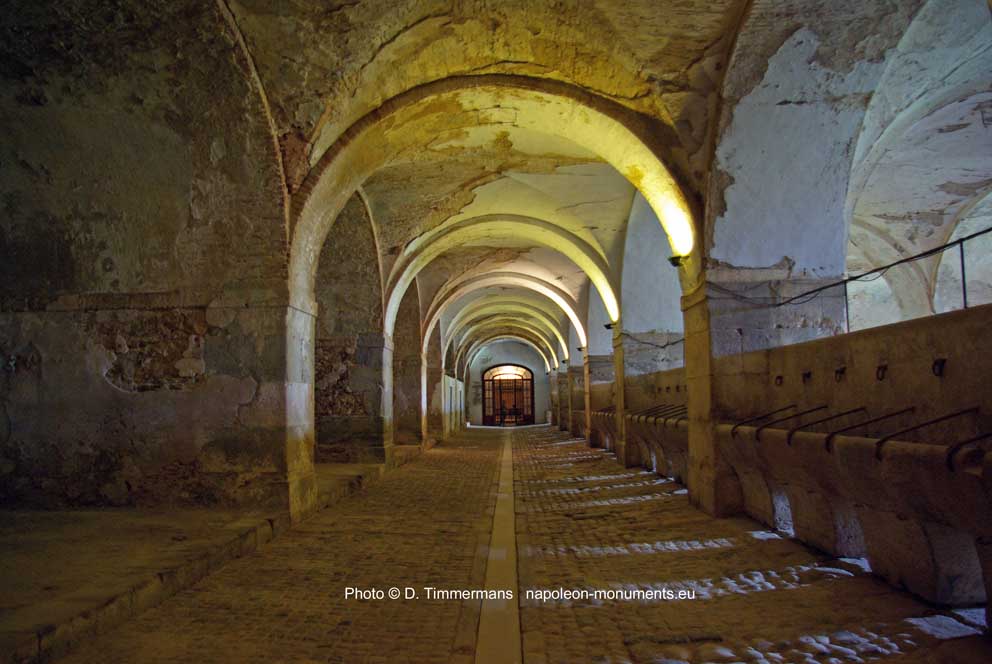 The stables. At the back, one can see general Álvarez de Castro's memorial.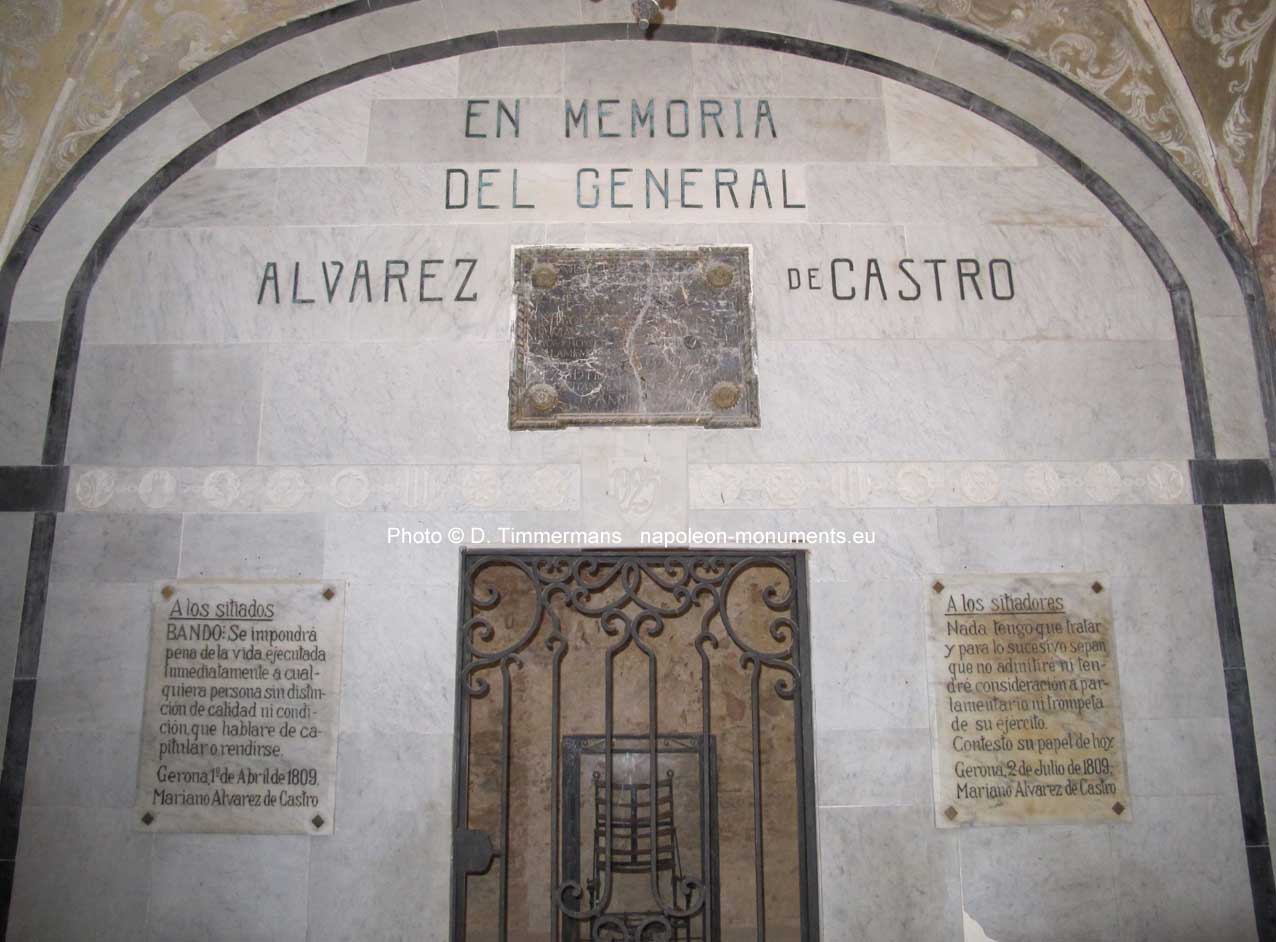 Above the entrance to the cel, one can see the black marble tablet which was placed on his grave in 1815. In December 1823 French troops, ironically invading Spain in order to restore the throne of Ferdinand VII, passed through Figueres, and on the orders of Marshal Moncey, formerly Napoleon's Inspector-General of Police, destroyed it.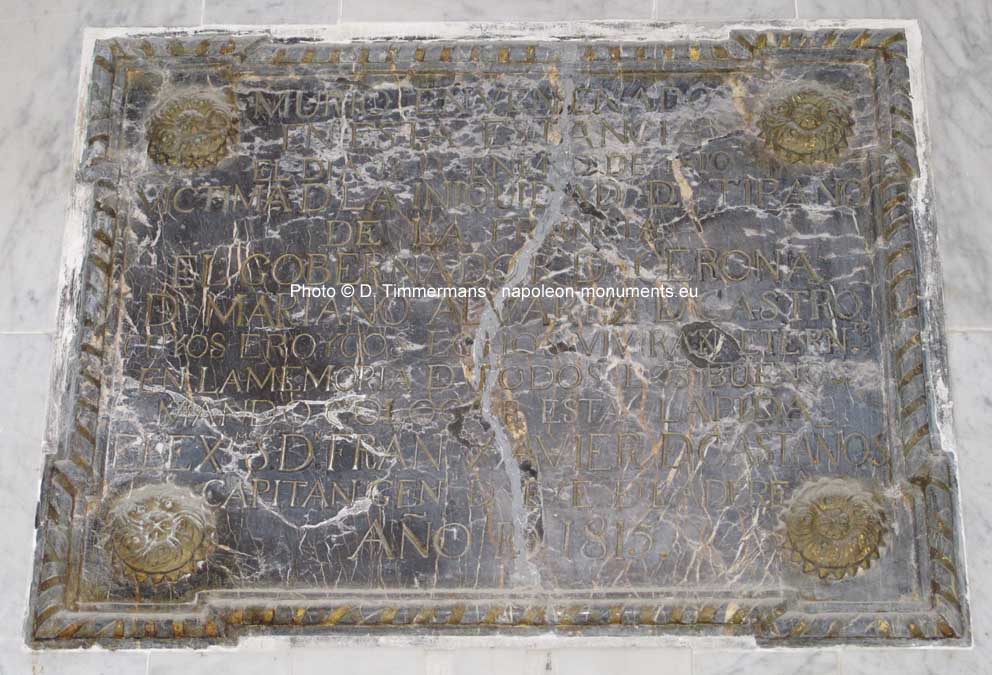 MURIÓ ENVENENADO
EN ESTA ESTANCIA
EL DIA 22 DE ENERO DE 1810
VICTIMA DE LA INIQUIDAD DEL TIRANO
DE LA FRANCIA
EL GOBERNADOR DE GERONA
DN MARIANO ÁLVAREZ DE CASTRO
CUYOS EROYCOS ECHOS [sic] VIVIRAN ETERNTE
EN LA MEMORIA DE TODOS LES BUENOS.
MANDO COLOCAR ESTA LÁPIDA
EL EXMO SR DN FRANCO XAVIER DE CASTAÑOS
CAPITAN GENL DEL EXETO DE LADEREA
AÑO 1815.
Dans cette pièce mourut empoisonné
le 22 janvier 1810,
victime de l'injustice du tyran
de la France
le Gouverneur de Gérone,
Don Mariano Álvarez de Castro
dont les actes héroïques vivront éternellement
dans la mémoire de tous les gens de bien.
Son excellence Don François-Xavier de Castaños,
Capitaine-Général de l'Armée de Laderea
donna l'ordre de poser cette pierre
en l'an 1815.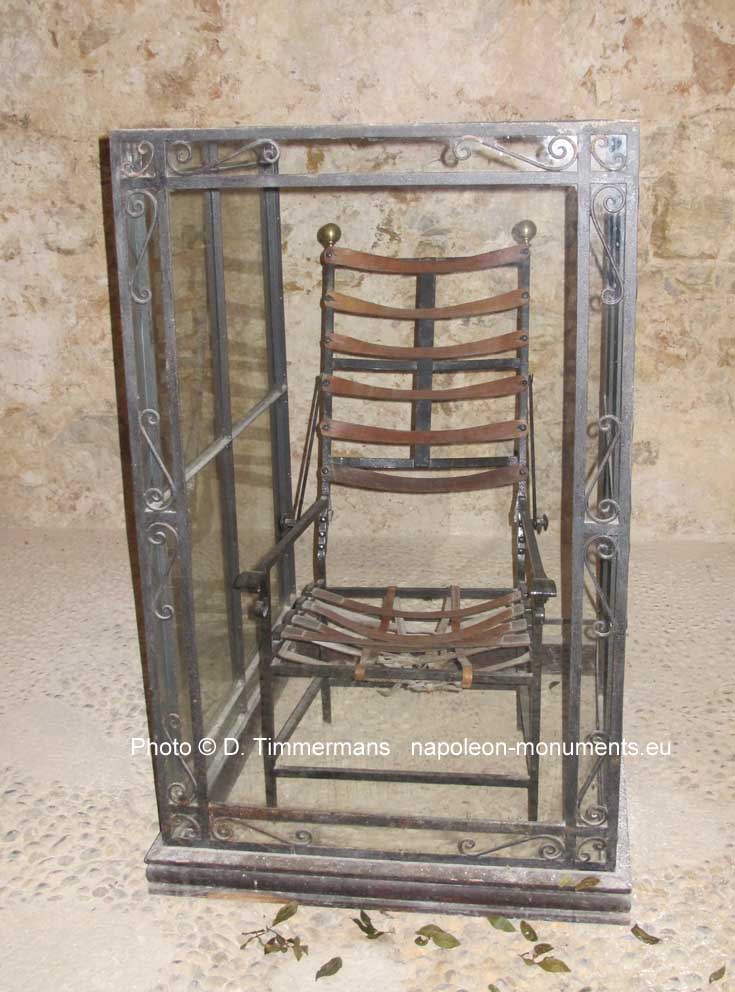 The reconstruction of the chair where he died.
A LOS SITIADOS
BANDO : SE IMPONDRÁ
PENA DE LA VIDA, EJECUTADA
INMEDIATAMENTE A CUAL-
QUIER PERSONA SIN DISTIN-
CIÓN DE CALIDAD NI CONDI-
CIÓN QUE HABLARE DE CA-
PITULAR O RENDIRSE.

GERONA, 1º DE ABRIL DE 1809
MARIANO ALVAREZ DE CASTRO

A LOS SITIADORES
NADA TENGO QUE TRATAR
Y PARA LO SUCESIVO SEPAN
QUE NO ADMITIRÉ NI TEN-
DRÉ CONSIDERACIÓN A PAR-
LAMENTARIO NI TROMPETA
DE SU EJERCITO.
CONTESTO SU PAPEL DE HOY.
GERONA, 2 DE JULIO DE 1809.
MARIANO ALVAREZ DE CASTRO.
Aux assiégés.
Arrêté : la peine capitale sera imposée
et tout de suite exécutée à toute personne,
sans distinction de qualité ni de condition,
qui parlerait de capituler ou se rendre.
Gérone, le 1 avril 1809
Mariano Álvarez de Castro. »

Aux assiégeants.
Je n'ai rien à traiter et,
dorénavant, sachez que je n'admettrai ni
ne traiterai avec égards
les parlementaires et trompettes
de votre armée.
Je réponds à votre courrier d'aujourd'hui.
Gérone, le 2 juillet 1809
Mariano Álvarez de Castro
De part et d'autre de la cellule où mourut Alvarez de Castro sont gravés, sur des tables de marbre, les textes qu'il fit afficher aux murs de Gérone pendant le siège, l'un aux assiégé, l'autre aux assiégeants. Dans la cellule se trouve une reconstitution de la chaise à armature de fer où il mourut. Celle-ci fut conservée ici jusqu'à la Guerre civile espagnole, au cours de laquelle elle fut détruite, lorsque les Républicains firent sauter une partie importante du fort, e. a. plus de la moitié des écuries. Si le général Álvarez de Castro est effectivement mort en captivité et si, en effet, il fut traité sans ménagement par ses geôliers, l'explication de sa mort consécutive au fait qu'on l'ait empêché de dormir dans cette prison doit être considérée comme une légende, car il est décédé le lendemain de son arrivée au fort. On voit d'ailleurs que la première plaque commémorative (qui date de 1815 !), parle d'empoisonnement1. Son corps, enterré anonymement au cimetière communal de Figueres, fut identifié par la suite grâce au fait que le fossoyeur avait placé une tuile sur son cerceuil. Il fut ensuite inhumé avec les honneurs dans la chapelle San Narciso de l'église San Feliu de Gérone.
Apposit the cell, above the troughs :

EN LA PAJERA DE ESTA CUADRA (CUYOS PESEBRES SE HAN CONSERVADA COMO MUESTRA DEL TRATO QUE LE DIERON)
SUFRIÓ PRISIÓN DE LOS FRANCESES EL EXCMO. SR. D. MARIANO ÁLVAREZ DE CASTRO, LÓPEZ GONZÁLEZ DEL PINO,
TRONCOSO DE LIRA Y SOTOMAYOR CABALLERO DEL HÁBITO DE SANTIAGO, MARISCAL DE CAMPO DE LOS REALES EJÉRCITOS
NACIONALES, CAPITÁN DE REALES GUARDIAS DE INFANTERÍA ESPAÑOLA Y GOBERNADOR MILITAR DE GERONA Y SUS
FUERTES. MARTIRIZARONLE SUS GUARDIANES, NO PERMITIÉNDOLE DORMIR, Y YA EN LA AGONÍA, LO SACA-
RON PARA CONDUCIRLO A LA PLAZA QUE TAN HEROICAMENTE SUPO DEFENDER, DONDE HABÍA DE SUFRIR LA PE-
NA DE MUERTE VIL EN HORCA. DIOS FUE CLEMENTE CON EL HÉROE Y LE LLAMÓ A SI ANTES DE QUE SUFRIE
RA MUERTE INFAMANTE. S.M. EL REY DON ALFONSO XIII (Q.D.G.) ORDENÓ HONRAR LA MEMO-
RIA DEL HÉROE Y MÁRTIR DISPONIENDO LA PRESENTE ORNAMENTACIÓN QUE SIN DESFIGURAR EL LUGAR
SIRVIESE DE PERPETUO HOMENAJE AL SACRIFICIO POR LA PATRIA.

Dans le fenil de cette écurie (dont les mangeoires ont été conservées comme preuve du traitement qu'ils lui donnèrent)
son excellence Don Mariano Álvarez de Castro, López, González del Pino,
Troncoso de Lira y Sotomayor, Chevalier de l'Ordre de Saint Jacques, Maréchal de Camp des Armées royales
de la Nation, Capitaine des Gardes royales de l'Infanterie espagnole et Gouverneur militaire de Gérone et de ses
forts, souffrit la prison de la main des Français, ses gardiens le martyrisèrent en l'empêchant de dormir et, déjà dans l'agonie, le firent
sortir pour le conduire dans la place que, si héroïquement, il sut défendre, où il devait souffrir la
vile peine de mort au gibet. Dieu fut clément avec le héros et le rappela à lui avant qu'il ne souffrît une
mort infamante. S. M. le roi M. Alphonse XIII (Q.[ue] D.[ieu] [le] G[arde] ) ordonna d'honorer la
mémoire du héros et martyr en disposant cette décoration qui, sans défigurer le lieu,
servira comme perpétuel hommage au sacrifice pour la Patrie.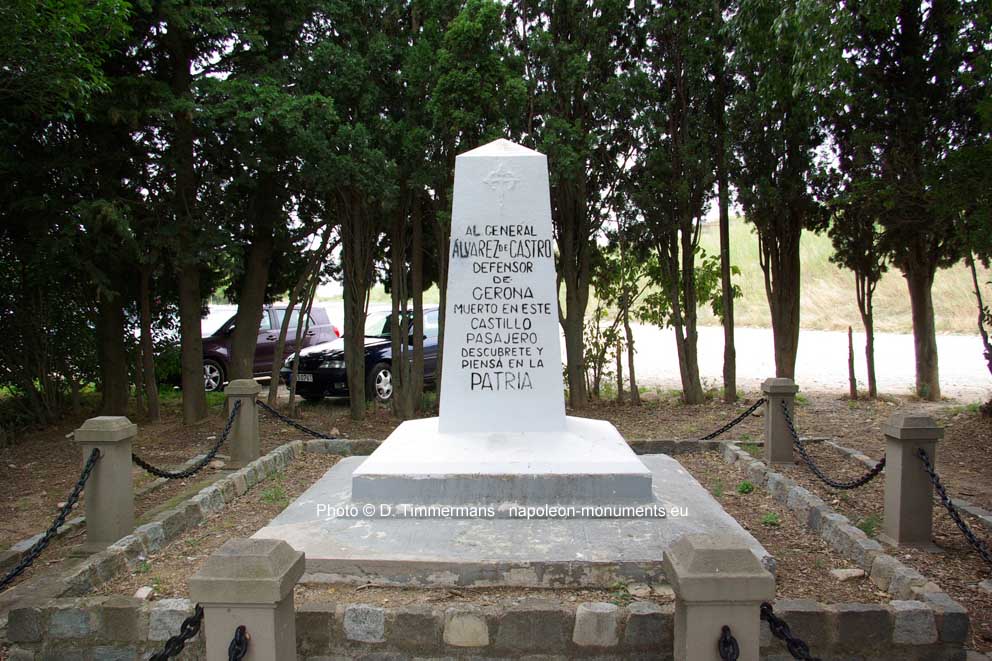 The stele to Álvarez de Castro, near the parking of the citadel.
AL GENERAL
Álvarez de Castro
DEFENSOR
DE
GERONA
MUERTO EN ESTE CASTILLO
PASAJERO
DESCUBRETE Y
PIENSA EN LA
PATRIA
1. "La véritable cause de la mort de l'infortuné Álvarez de Castro devrait être recherchée dans l'état physique et moral d'une personne âgée, malade, solitaire et vaincue et, ne l'oublions pas, en route vers l'échafaud. Peu de cœurs résistent à cela. (Il avait dû être remplacé à la tête de la place de Gérone et avait déjà reçu les dernier sacrements avant la reddition de la ville.)" Le château de San Ferran de Figueres, J.M. Alfaro Guixot, 2008.

22-26/04/1811 siege of Badajoz

03- 05 mai 1811 : battle of FUENTES DE OÑORO
FUENTES DE OÑORO

Panorama of the battlefield of Fuentes de Oñoro, as seen from the east, towards the village, the axis of the divisions Claparède (Drouët) and Ferey (Loison).
(Click to enlarge.)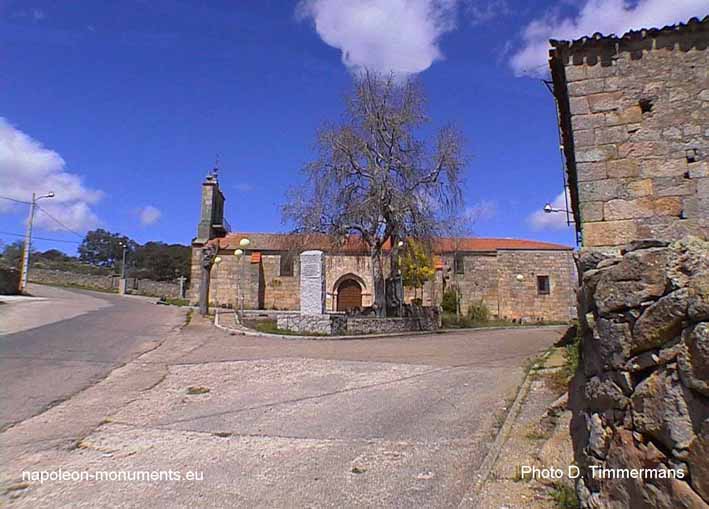 The centre of the village of Fuentes de Oñoro, scene of some very heavy fighting.
The French troops came from the right, the lower part of the village.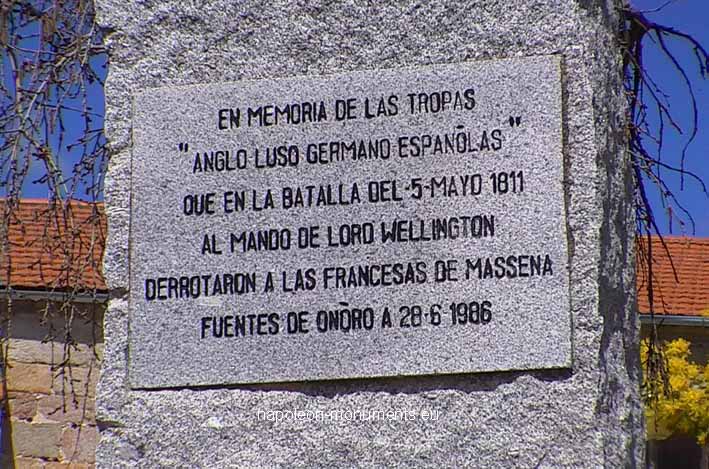 The inscription on the monument.
To the memory of the troops of
Great-Britain-Portugal-Germany -Spain
who, during the battle of 5 May 1811,
under the command of Lord Wellington,
routed the French of Masséna.
Fuentes de Oñoro, 28-6-1986
05/05/1811 Fuerte Concepçion
09/05/1811 Almeida (Pt)
11/05/1811 Aldea del Obispo

16 mai 1811 : Battle of La Albuera
Beware, the North is on the left!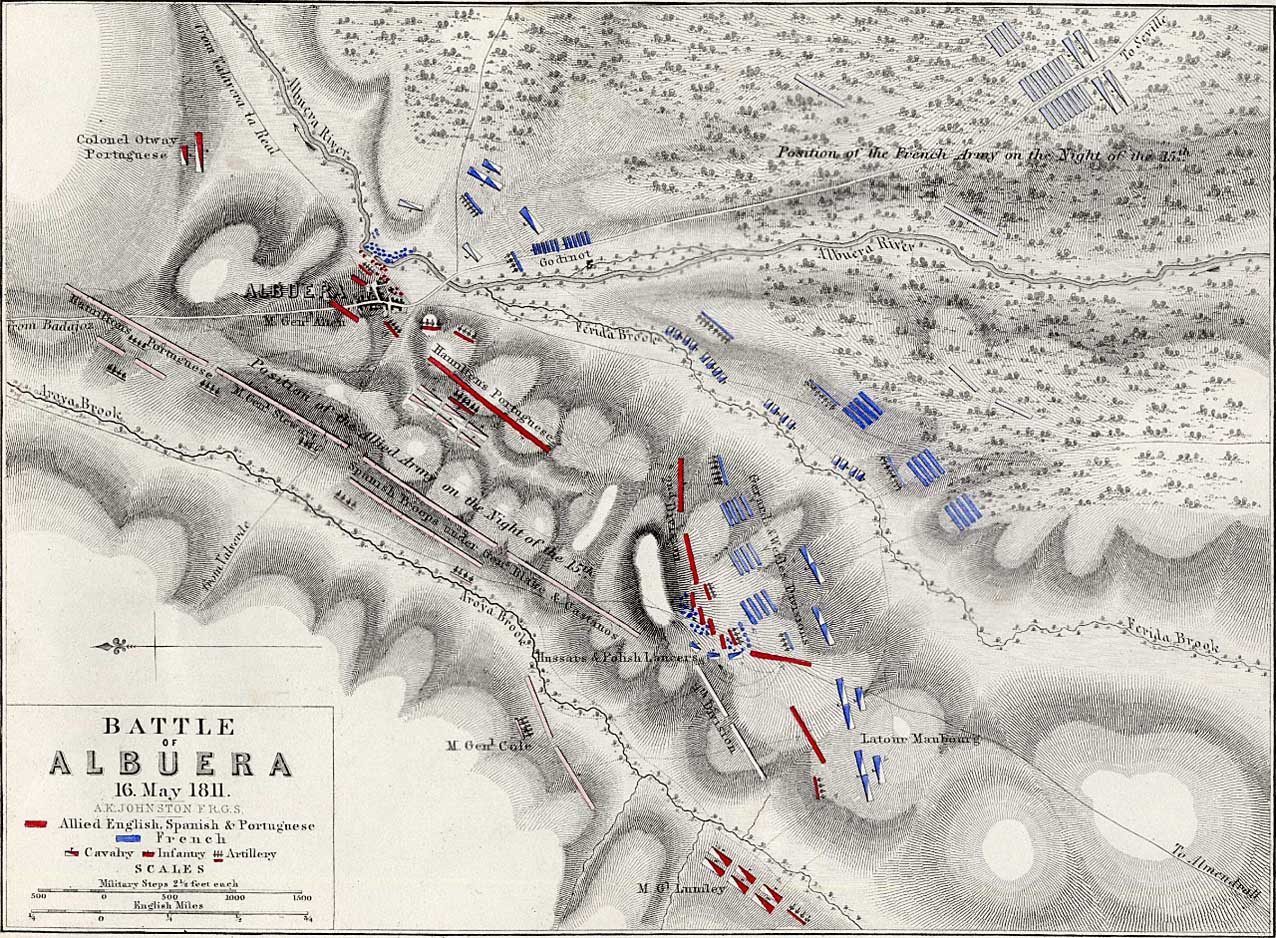 La Albuera

Puente Viejo. This ground was attacked by Godinot's division. On the crest, the KGL's positions.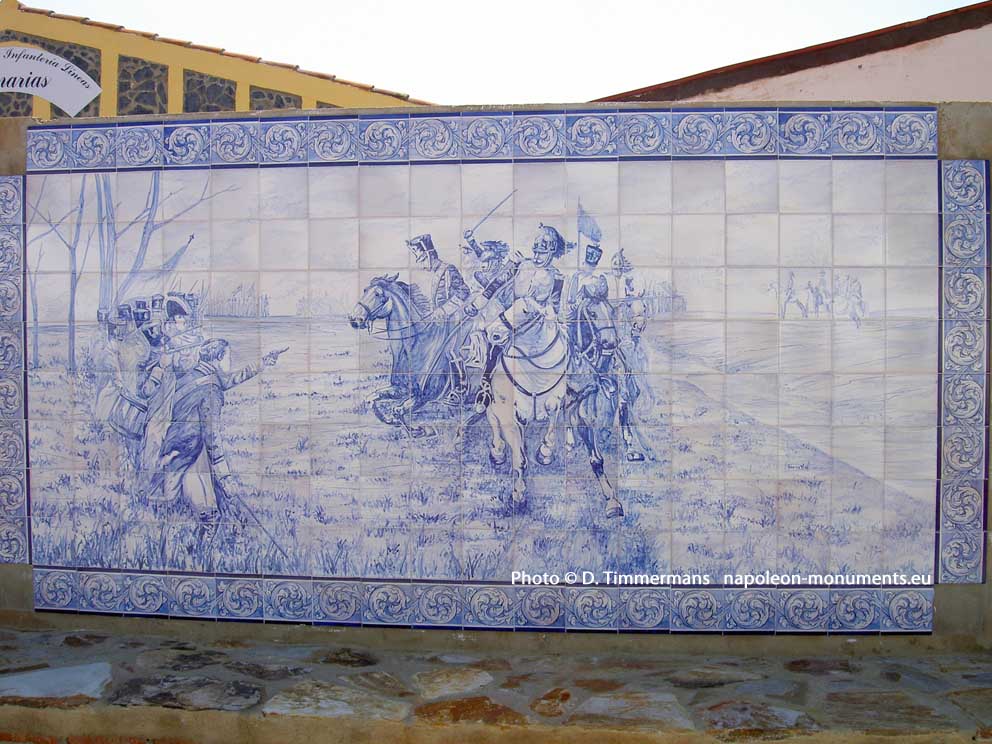 A "parque tematico" is currently being realised by the city of La Albuera.
The British monument unveiled on the 16th of May 2001.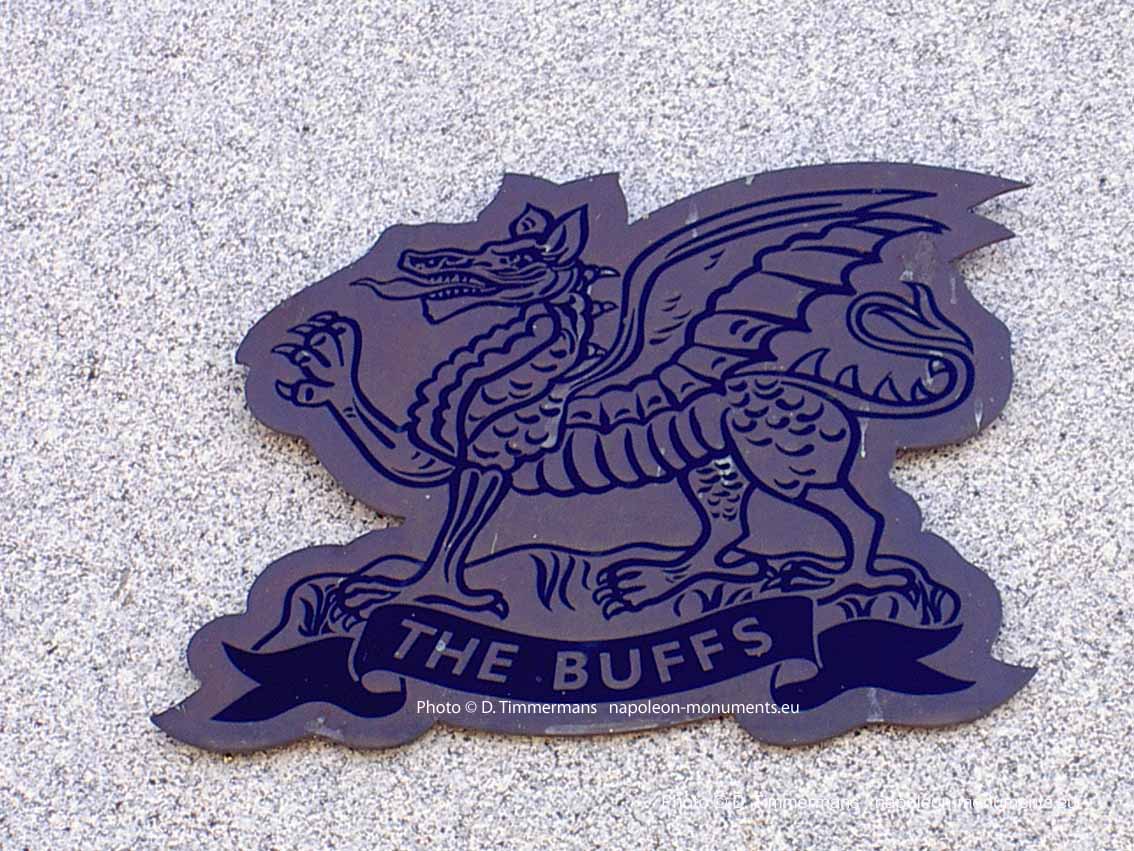 One side of the monument for each regiment.
At the foot of it are buried the colours of the 57th and 77th foot (1853-1876)
09/06/1811 Pont de Molins
CAPITAN DE INFANTERIA
D. NARCISO MASSANAS
HEROICO GUERILLERO AMPURDANES
FUSILADO POR EL ENEMIGO EN
PONT DE MOLINS
9 DE JUNIO 1811

¡ PRESENTE !

Au capitaine d'infanterie D. Narciso Massanas, héroïque guerrier de l'Ampurdán, fusillé par l'ennemi à Pont de Molins, le 9 juin 1811.
Opposite the entrance of the San Ferran at Figueres, this plate. The Ampudan is a region of Catalunia.

22/06/1811 Elvas (Pt)
19/08/1811 end of the siege of Figueres, taking of the fortress of San Ferran by the French

25-26/09/1811 El Bodon (El Carpio)


28 octobre 1811 : Battle of Arroyomolinos

A view on Arroyomolinos from the west, the departure line of the British attack. The village can be seen at the end of the road.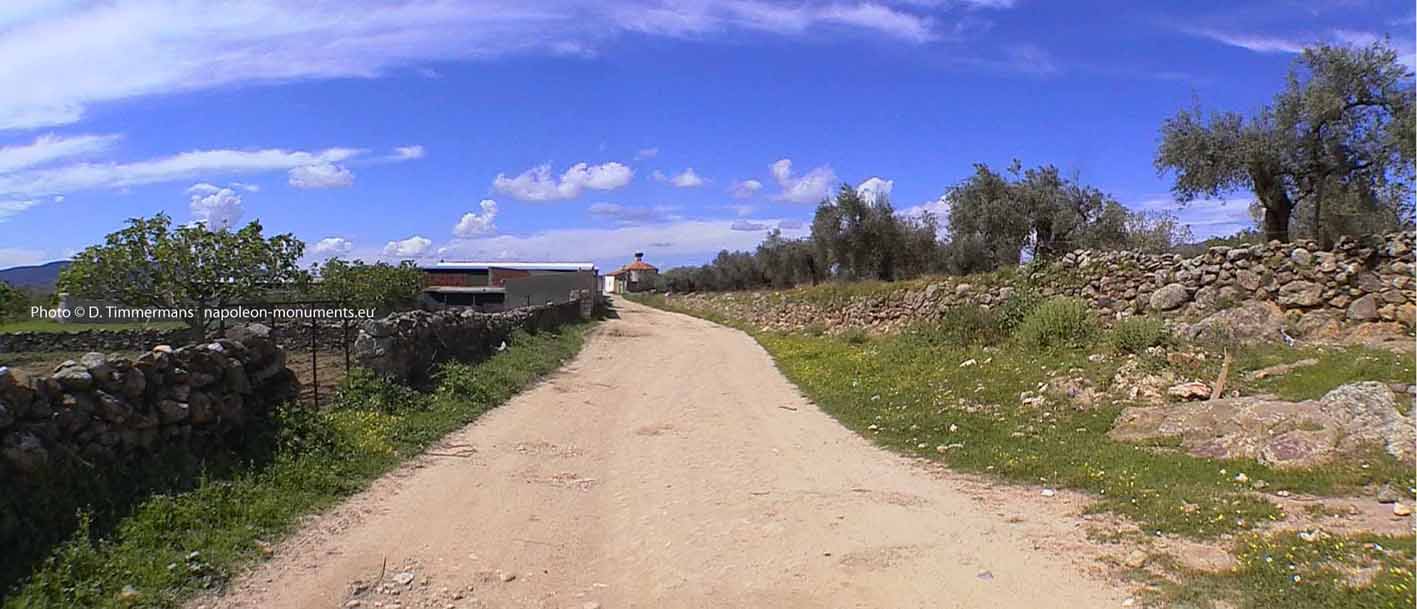 Arroyomolinos, the opposite exit of the village, from where a part of the French troops managed to escape.
page still in the making
Maps : Johnston, Alex. Keith, Atlas to Alison's History of Europe, William Blackwood and Sons, Edinburgh and London, 1848 and 1850.